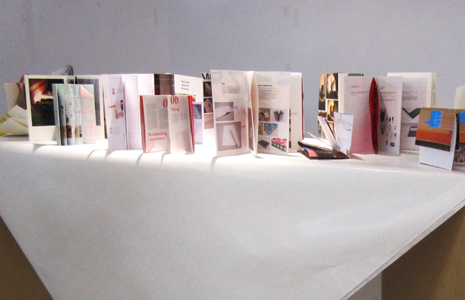 The A Matter of Experiences Exhibition which was held at the SD Gallery for last two weeks, has concluded yesterday.
Exhibited were the works done by the year-one students of BA(Hons) in Design (Visual Communication) for the 10-week subject "Book and Publication". The exhibits were the outcome of the first 5 weeks which covers bookmaking, toolbox or portfolio, A4/A3-size booklet and poster-booklet.
The aim of this first part of the subject is to enhance the students' tangible experience of making a book/box with physical materials. It is a prelude, intended to strengthen their individual sensitivity for designing a book with special attention to texture, color, line, plane, form and space (printed/digital elements). Emphasis is placed on a conceptual understanding of a simple sheet of paper. This is essential for an in-depth understanding of how a sequence of papers relate to book design. Including texts and images, methods of cutting and folding, and considering time and space, all of which become the visible and the invisible elements of the works exhibited. The three assignments were to design an A4 and an A3 booklet and a poster-booklet which gives the students a practice for generating original printed publications, and for finding access to developing their own philosophy and concept for creating.
The exhibition was curated by Esther LIU, Associate Professor of School of Design.
Participants included:
CHAN Kit San
CHEUNG Chi Ling
CHEUNG Ka Po
CHONG Tak Sam
CHUN Kai Fung
HO Lut Hin
KAN Yuen Ting
LAM Oi Keat
LAM Pui Yuk
LAU Ka Man
LAU Yik Tung Alex
LEE Ching Yee
LEE Ka Man
LEE Yin Chung
LI Ting Ting
LIN Rongwei
MAK Long
PANG Ho Jing
WANG Yung
WU Yee Kwan