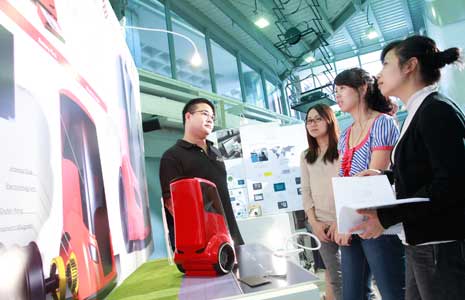 Beginning in September, 2011, the School of Design is offering a Master of Design (Design Practices) degree within the Master of Design scheme that will focus on transportation design issues in China and the growing economies of Asia.
The aim of this 10-month program is to familiarize students with the emerging trends and issues that are having an impact on the design and planning of transportation in the urban, suburban and rural environments in the most rapidly growing region in the world. They will be tasked to anticipate the implications of these trends and issues with regard to the practice of Transportation Design in the future and come to understand how they as designers will contribute to the design of mobility solutions.
Students will use a variety of research methods for gathering design centric data relevant to transportation planning and recent societal developments in Asia. Regional case studies in China will be used as effective tools in learning and teaching for this subject. Major issues like government policies, economic, cultural, social and managerial systems will be explored for their significance in affecting transportation planning strategies.
The program begins in September with a series of workshops taught by experienced transportation designers; featuring lectures and presentations about transportation issues- the history, evolution, technology and future scenarios of mobility. The program will conclude with the Capstone project- a semester long, self generated project that is China centric and relevant to emerging transportation markets there.
Recent graduates of Transportation Design Programs, designers seeking a new career direction, employees of companies with a presence in China, or those seeking knowledge about the state of transportation design in the most dynamic economy in the world are invited to apply by May 2nd, 2011. The cost of tuition for this 10 month program is HK$108,500 with successful graduates awarded a Master of Design degree.
More about MDes (Design Practices)>>
For enquiries:
Martin Smith, Chair Professor of Industrial Design
sdmartin@polyu.edu.hk