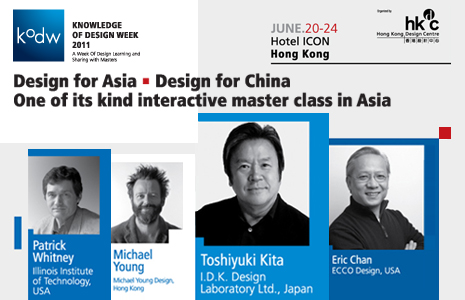 Knowledge of Design Week (KODW) 2011
A Week of Design Learning and Sharing with Masters
Date: 20 – 24 June, 2011 (Mon – Fri)
Venue: Hotel ICON, Tsimshatsui East, Hong Kong
The theme for KODW 2011 will be "Design for Asia and China", with a focus on industrial design. The 1-week gathering will feature interactive workshops, the one-day ReD conference, and networking sessions with the world's top design gurus and business leaders. State-of-the-art design streams, such as Product, Green, Emotion, User-Centric, Inclusive, Brand Management, Cultural Based Innovation, Ergonomics, Consumer Experience and Innovative Design, plus the latest regional design trends will be thoroughly explored.
The line up of inspiring guest speakers will include: Toshiyuki Kita (Japan), Patrick Whitney (USA), Michael Young (Hong Kong), Eric Chan (USA), Hideshi Hamaguchi (USA), Marc Brulhart and Chantal Rechaussat (Hong Kong), as well as design maestros from the Royal College of Art, JWT Southeast Asia, iF Award, red dot, etc.
Early bird registration starts now!
Event Website | Registration Form