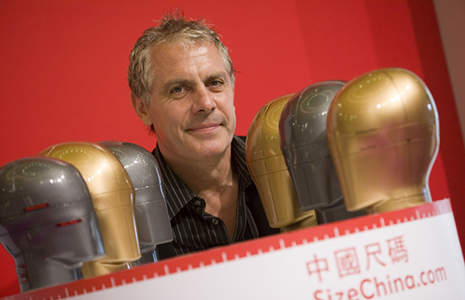 With immense pride, the School of Design of the Hong Kong Polytechnic University (PolyU Design) – Asia's best among the world's top 25 design schools – is thrilled to announce that Professor Roger Ball has been named one of only eight recipients of an endowed professorship in PolyU's first-ever Endowed Professorship Scheme.
At a special inauguration ceremony held on 29 May at the PolyU campus, Professor Ball was singled out for his outstanding academic and research achievements and officially awarded the Eric C. Yim Professorship in Asian Ergonomics. Mr. Eric Yim, who founded the highly successful design firm POSH Office Systems and serves as its Chairman and CEO, generously underwrote the professorship.
Professor Ball has won international recognition for his trailblazing work at SD's Asian Ergonomic Lab, founded in 2003 and soon after awarded a multimillion dollar grant for its first major project, SizeChina. An innovative 3D survey of Chinese heads and faces, SizeChina helps designers make consumer products that properly fit Asian body sizes. 90% of all consumer products are based on body shape data from Western people.
Professor Ball's work has resulted in significant funding awards, consultancy projects with leading corporations, and most recently this prestigious endowment. Professor Ball and his team at the Asian Ergonomic Lab have boosted PolyU's rising reputation as an influential world-class research institution.
Professor Ball's primary research is to collect through digital scanning the full range of sizes and shapes of the Chinese population, such as their hands, feet and ears. The data from SizeChina is already poised to be used by diverse faculties within PolyU, including Health and Social Sciences, Engineering, Applied Science and Textiles, and Nursing.
Whether designing new respiratory protection products or paving the way for better-fitting eyewear, shoes and automobiles, Professor Ball has tremendously contributed to both academic and industry interests. The SizeChina Project led to the first-ever digital database of Asian head and face sizes for extensive use by manufacturers and designers.
SizeChina is training the next generation of designers with cutting-edge technologies. PolyU Design as a whole has developed practical workshops, curricula and textbooks, positioning its graduates and partners in Hong Kong and across the globe to create truly revolutionary applications in popular industries such as electronics, fashion, transportation, furniture, and medical devices, to name just a few exciting possibilities.
The School of Design joins everyone at PolyU in extending heartfelt congratulations to Professor Ball and his pioneering team at the Asian Ergonomic Lab. Their fascinating work is inspiring and meaningfully changing our everyday life for the better.