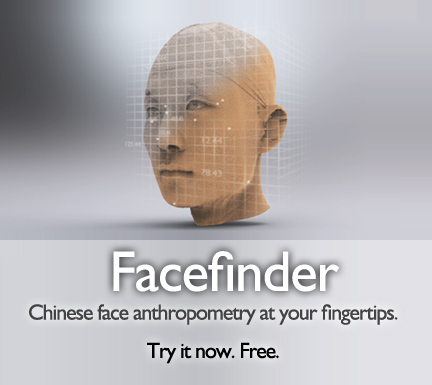 Are you designing a hat, mask, or glasses for the Chinese market? Then you need reliable information about the precise size of the Chinese head and face and now you can get that data, instantly, with the new online anthropometric tool, Facefinder, brought to you by SizeChina for free.
Now on the SizeChina site, the Facefinder home page offers a simple, user-friendly interface that gives instant access to a complete database of Chinese head measurements. Ten different dimensions can be searched for male or female subjects, aged 18 to 51+, and 1%-ile to 99%-ile in size. Facefinder will print out instant reference charts of search results, ready to guide projects of any size, from student work to industrial development.
SizeChina anthropometric data meets the highest international standards for statistical accuracy. Based on the analysis of 3D results from laser scans of 1600 subjects on mainland China, the data is available in a range of commercial products, including physical and digital headforms, software plug-ins, and individual data clouds. Now our first freemium product, Facefinder offers access to the same data in chart form — free of charge, and on-line. Now there is no need to visit the library and search through out-of-date books to try to find the dimensions you need. Ask Facefinder, and it will tell you what you need to know instantly.
Do you want to design headphones for a Chinese male teenager? Ask Facefinder for the 98%ile male teenage head-width dimension to make sure the headband is wide enough.
Are you creating sunglasses for a fashionable 40-year-old Chinese woman? Ask Facefinder for the dimension between the center of the pupils of the eyes for 50%-ile females aged 31-50.
Do you need to make surgical facemasks for 70 year old Chinese visitors to a hospital? Ask Facefinder for a full range of the variation in the dimension measured from the tip of the nose to the point between the eyes, for both genders.
Visit www.sizechina.com today, and discover the power of Facefinder.
Facefinder development team
Project Leader – Mr. Eric Chow
User Interface – Lead developer – Mr. Eric Chow
Lead Scientist and statistics – Dr Tina Luximon
SizeChina Director – Dr Roger Ball
External consultant – Dr Johan Molenbroek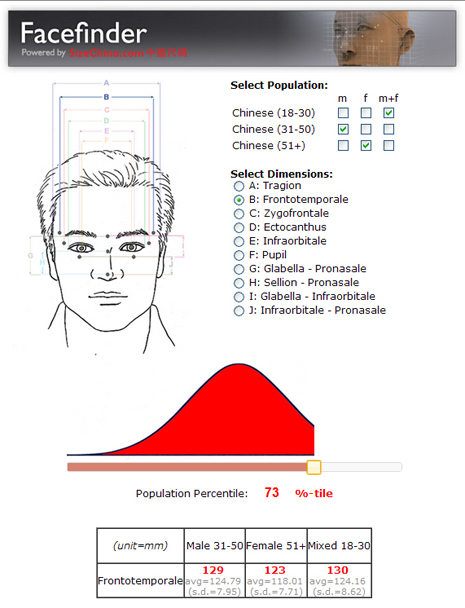 Facefinder © 2011