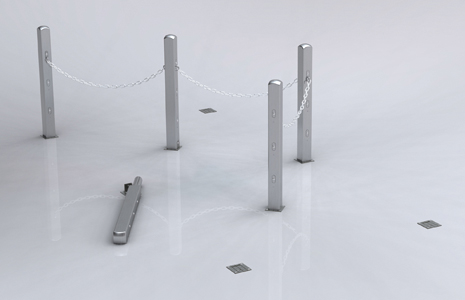 One single bollard that rules them all…
Traffic bollards are commonly used as barriers to stop unwanted vehicle access. FlexiBOL, the new bollard designed by PolyU's Public Design Lab to promote flexible use of urban street space, is the next step in bollard evolution. In a vibrant and compact city like Hong Kong, most of the open spaces are used for ceremonies, festive celebrations, or sports events at one time, and mass demonstrations at another. FlexiBOL makes these open spaces multi-functional, giving urban planners and architects unprecedented freedom in the planning, design, and management of these spaces.
FlexiBOL is a removable bollard which is held in place in a mounting mechanism set into concrete, and it can be lifted out of that mounting mechanism when access to the area is needed. The in-ground mounting mechanism that usually remains closed when idle, opens up to let the bollard sink in. The bollard is supplied with a patented locking system so unique that it locks the bollard into the mounting mechanism without any padlocks. Unlike conventional design, the opened mounting mechanism cover fits snugly into a recess on the side of the post to stop obstructing the pavement and thus eliminates unwanted tripping hazard. The installation is tamper-proof. When the bollard is unlocked with a proprietary screwdriver, it can be easily lifted out in one piece, with no extra fixings to bother with. Chain eye (i.e., catch) is also built-in to lock any chain into place via a special mechanism.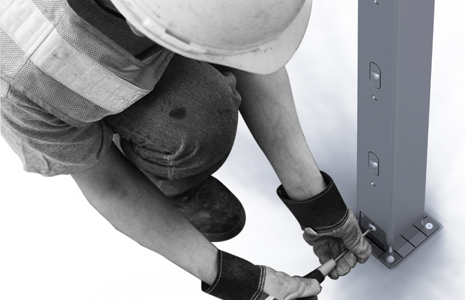 As its name implied, FlexiBOL is a concept of a set of flexible bollard system that allows easy installation, maintenance and modification. It adopts a spectacular self-contained modular structure where components are built in for trouble-free mounting operation. Once installed, the post can easily be removed and replaced in minutes using no more than a screwdriver. It greatly increases the installer's comfort and efficiency, making it ideal for situations where frequent or quick removal of a security barrier is necessary.
Fabricated to high tolerance, the bollard sits tight against the mounting mechanism, creating a strong and sturdy barrier or separator that can easily withstand vehicle impact in compliance with international safety standards.
FlexiBOL is ready to accommodate different types of chains, railings, panels, decorative panels, or a combination of these to configure any barrier designs from simple to complex, to fit any site conditions and event requirements. Changing from permanent to temporary use, from light to high security, or from partial to complete blockade, can now be done quickly to adapt barrier to various occasions throughout the year.
This ergonomic design heralds a significant breakthrough for a highly efficient manipulation of bollard. Professor Michael Siu from the School of Design explained, "Just imagine one can block off the complete Nathan Road from vehicle traffic or open up the Queen's Road to mass demonstrations in a just few hours. Installation of FlexiBOL is trouble-free that requires no fixings. Thus, it eliminates the storages of odds and ends, and simplifies the transport and delivery of bollard components to site, making the installation jobs much more manageable than ever." Professor Siu continued, "It also prevents costly repair. Any components can be removed and replaced without disposing of the complete installation".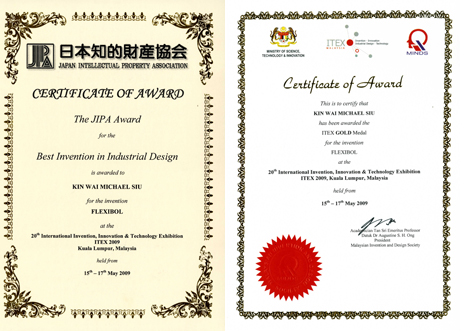 This progressive bollard design won a number of awards including the Double Gold Award at British Invention Show in 2008 and the JIPA Award for the Best Invention in Industrial Design at 20th International Invention, Innovation & Technology Exhibition in Malaysia in 2009. FlexiBOL would probably set the standard for urban bollard, and it would meet with enthusiastic support of engineers, town planning professionals and government officials alike. The Highways Department has already pioneered the use of this award-wining bollard at Causeway Bay.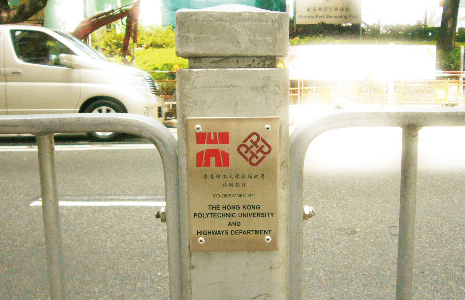 Source: Technology Frontier published by Partnership Development Office, The Hong Kong Polytechnic University, June 2009