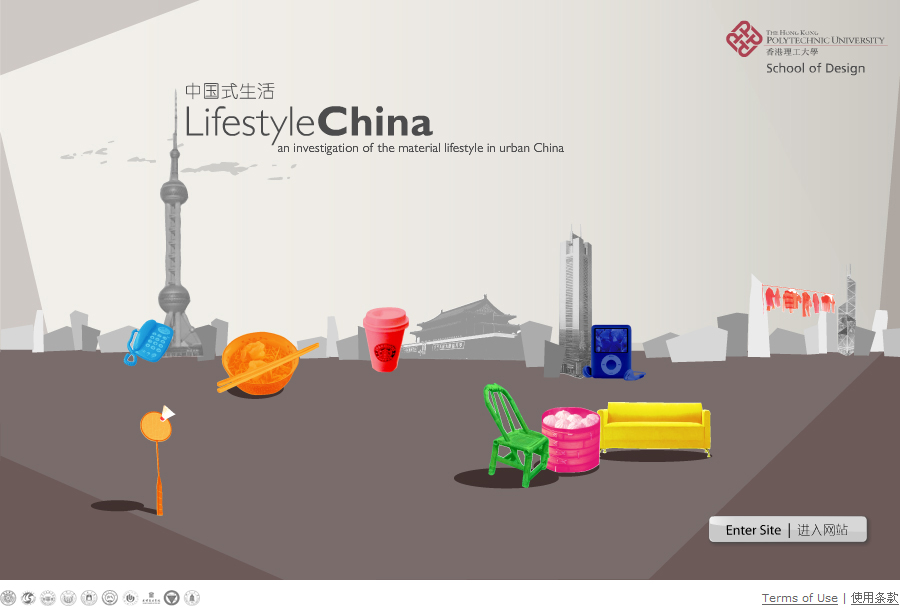 The Hong Kong Polytechnic University (PolyU) School of Design (SD) has set up the world's first image database on the lifestyle of middle-class Chinese families after gathering massive data on their living environment and analysing their expectations for modern life.
Headed by Mr Benny Leong, Assistant Professor of SD and person-in-charge on the Asian Lifestyle Design Research Lab, the study was conducted in 10 major mainland cities across the country of China. During the two-year study, PolyU researchers conducted some 200 household visits and captured snapshots of the cities through photos, case studies and literature review. The study covers five aspects of everyday life's data, including city dwelling, food, communication, leisure and clothing.
Professor Lorraine Justice, Director of SD, said the findings of this pioneering study will be of relevance to both industry personnel and policy makers. In gathering the data, PolyU has also teamed up with 10 top design schools on the mainland, including Tsinghua University Academy of Arts and Design and Tongji University College of Architecture and Urban Planning, to form the Lifestyle Design Research Network of China (LSDER-China).
As far as living environment is concerned, this PolyU study found that Shanghai residents considered privacy of much importance and apartment bedrooms tend to be far apart. On the other hand, Chengdu residents are very green conscious and they have more plants inside their houses as compared to other mainland cities; while a typical apartment in Zhengzhou features a balcony-like sunroom. Residents in Guangzhou are least concerned with style and taste, but they considered an "in-house garden" a must-have for an urban dwellers' ideal home.
The study also asked people to show their preferences on the nice-to-have features of mobile phone design. The interviewees in Shanghai, many of them being professional migrants, demanded for GPS integrated services to facilitate driving. Many respondents in Zhengzhou would like to see their mobile phones empowered with electronic cash functions; while Tianjin people considered information screening of more importance in screening deceitful SMS message. In Guangzhou, where personal safety for females is a matter of concern, the respondents would like their mobile phones equipped with alarm and torch function.
Interestingly, most members of middle-class families would give away their used or outdated mobile phones to their seniors or relatives as presents, and sometimes as toys for kids.
On top of these findings, PolyU researchers have also set up a library of over 120 lifestyle related magazines, including 56 local magazines providing information on native lifestyles in urban China, and 65 household magazines that are read by the 200 surveyed households.
The establishment of Lifestyle Design Research Network-China has also paved the way for PolyU to further strengthen its collaborations with other research networks and institutions around the world. These include the Industrial Designers Society of America, Beijing Industrial Design Centre; Design for Social Innovation & Sustainability; Learning Network on Sustainability; and some design research units of Milan Polytechnic in Italy, to name but a few.
*****
Press Contact : Mr Benny Leong, Assistant Professor
School of Design
Telephone : 2766 5458
Email : sdbenny@polyu.edu.hk