The PolyU Design Annual Show 2010 is underway. It opened on June 3 with a motivating speech by our Guest of Honor, Suzi Wong (Ah So), followed by a ceremonial roasted pig "opening" with our Director, Lorraine Justice.
To show our appreciation to our Guest of Honor this year, we have asked our School's ceramics specialist, Josephine Tsui, to design and produce a souvenir. Her translation of this year's theme, Food for Thought, brought her to a very rounded solution – a perfectly circular object. She started off with a circular object in mind and came up with imprints of walnuts, a popular brain food, to decorate the ring. The circle represents process, a continuum of thought and the inner circle serves as a space for deeper contemplation.
When I asked her what the hardest part was, it wasn't sculpting the perfect curve or creating a smooth surface but waiting. Waiting for the clay to dry just enough to press the walnuts and words into it so the material does not crack. Ceramics seems to be a good artistic outlet to train one's patience.
Nevertheless, it is an impeccably crafted piece of work! We hope that like this year's show, it will leave a lasting impression on Ah So.
The Show is on from June 3-17, 2010
Opens daily from 11:30am to 8:30pm
at InnoCentre, Kowloon Tong, Hong Kong
www.food4thought2010.com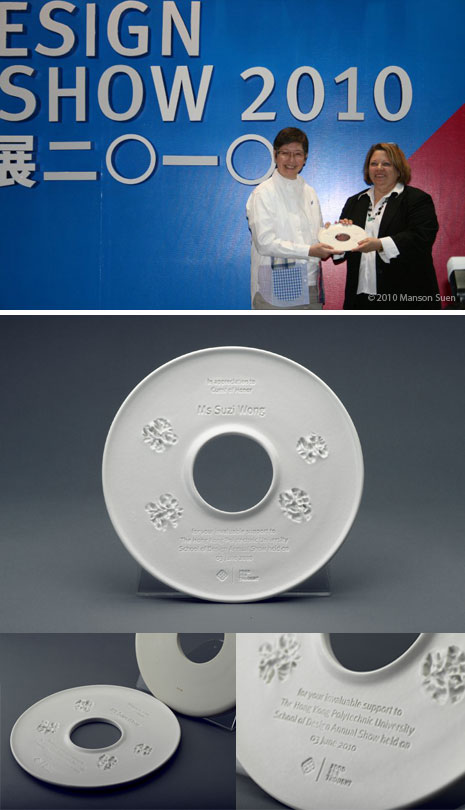 Ceramics is an elective at PolyU Design.