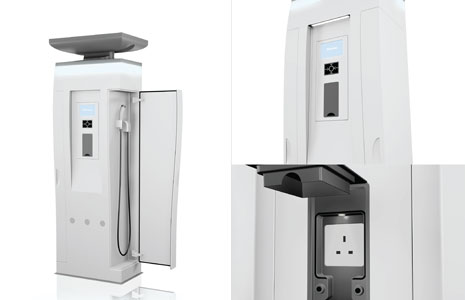 The Smart EV Charging Station (SEVCS) created by the Public Design Lab of PolyU Design won Bronze Award from the 2011/12 Spark Concept Award. The results of the Award were announced on 21 February. 26 audacious designs from corners of the world have taken top honors.
The SEVCS is an interdepartmental design project led by the Public Design Lab, in collaboration with the Department of Electrical Engineering, Facilities Management Office and Industrial Centre, of PolyU. It is a smart charging station for electrical vehicles. The Public Design Lab is led by Professor Michael Siu of PolyU Design.
The charging station overcomes the inflexibility and practical deficiency of current charging stations. It provides different connectors which cover different electric vehicle charging standards for different countries. Its sun-tracking PV panel is environmental friendly that it supports the energy for the lighting and UI operating system. The materials of SEVCS can be recycled. Its special ergonomics consider the needs of people with special needs, e.g., wheelchair-users, older people.
Supported by the PolyU and the Council Chair, a simplified version of the charging station without sun-tracking function has been installed in the car park of PolyU. It is mainly for the charging of MyCar designed by PolyU.
Winners will have their work displayed at San Francisco's Autodesk Design Gallery and at the Guangzhou Design Week in early December. All winning work and full details on the Spark Awards are at: http://bit.ly/x3HBpJ
Congratulations to Professor Michael Siu and the design team!