Following ATB AutoArt's success last year, two student teams from PolyU Design won the championships at the 2011 Hong Kong Social Enterprise Challenge (HKSEC), a social venture business plan competition organized by the Center for Entrepreneurship of The Chinese University of Hong Kong encouraging students to employ a creative entrepreneurial approach to solve real world social issues.
One of the winning teams, Woof, took the 2011 HKSEC Championship as well as the Award for Best presentation. Members included PolyU's MDes (Design Strategies) student Anita Lam and graduate Margaret Lok, and the Hong Kong Baptist University's MVA in Art Administration student Amy Chan. They proposed a social enterprise named Woof aiming to raise human compassion and empathy for and change attitudes towards animals, through the sales of chiengora accessories which are sustainable and environmentally friendly. Also, through its Wooferine canine animal welfare educational projects, Woof intended to raise awareness among the public of the plight of animals, and the need to respect all life. The team was supervised by Rémi Leclerc, Assistant Professor of PolyU Design throughout the process of competition.
Another team of champion came from the subject SD377 "Current Issues in Art & Design Education" of BA (Hons) Art & Design in Education. Joyce Chu, Keziah Law, Irix Leung and Wong Ka Ki formed the group Oops! to transfer surplus and wasted materials from the interior design industry to visual arts students in secondary schools for materials exploration in their creative works. With the incubation cash award Oops! will soon help to reduce waste from the interior design industry and set a standard for HK's creative industry on social innovation. Mr Patrick Chan who taught the subject supported the team as advisor. Last year's champion ATB AutoArt was also from this part-time BA program.
The champions' innovative ideas and business models backed up by strong design and presentation skills excelled over 650 contestants forming more than 180 teams from 22 institutions in Hong Kong. There were in total 6 finalists including other 3 teams from CUHK and 1 from the HKUST. Each member of the winning teams received an incubation cash award of around HK$50,000.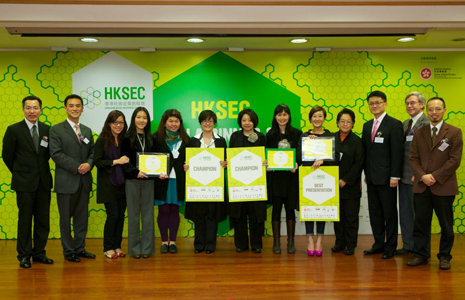 (Above) The Champions and guests at the award presentation ceremony (courtesy: HKSEC)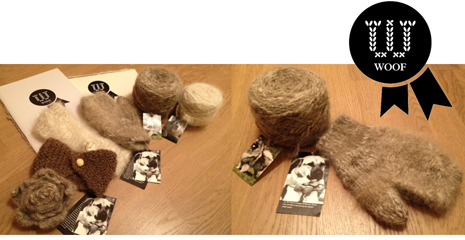 (above) Accessories by Woof (courtesy: Woof)