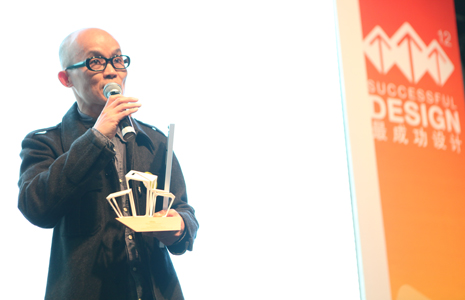 Prof Michael Siu and the Public Design Lab brought us good news from Shanghai last week. The Ceremony of the 2012 Successful Design Awards – China was held on 4 November where BrailleWise (飛機共融衛生間) won the Diamond Award, the highest among the Top 16 Selections. Smart Electrical Vehicle Charging Station (SEVCS), a collaborative project with EE, IC and FMO of PolyU, impressed the judges with its highly innovative and user-friendly design for empowering electrical cars. It was selected as one of the China's Successful Design Award winners.
"The awards honor entries with excellent design strategy, process and outcomes. They are expected to bring creative and meaningful contributions to the society and industry. BrailleWise has done a good job on all these," Prof Michael Siu told us. "It is encouraging to receive one of the judges' compliment that our design did not only overcome a difficult problem with long history, but also provided an inclusive practical solution."
Conferred by the Shanghai Industrial Design Association and Shanghai Creative industry Center, the 2012 Successful Design Awards, one of the most privileged award presenters in China, granted prizes to 124 distinguished designs out of 454 entries. Other Top Selections are ROBAM-810 sterilizer, Philips Soundbar Home Cinema Speakers, interior design for Mong Kok Post Office, Haier WSGIG refrigerator, Nokia Lumia 800 and then some. Members of jury panel included David Carson, Kevin Mc Cullagh, Shiz Kobara, Ali Grehan, Robbert Van Nouhuys, Bryan.e.nesbitt, Sotamaa Yrjo, George M Beylerian and Cathy Huang from all over the world.
Earlier in March, BrailleWise was given the Runner-Up Award for the Industrial Design & Technical Concepts category of the Crystal Cabin Award, the only international award for excellence in aircraft interior innovation, held in Hamburg. SEVCS was the Bronze Award winner of the 2011/12 Spark Concept Award in New York.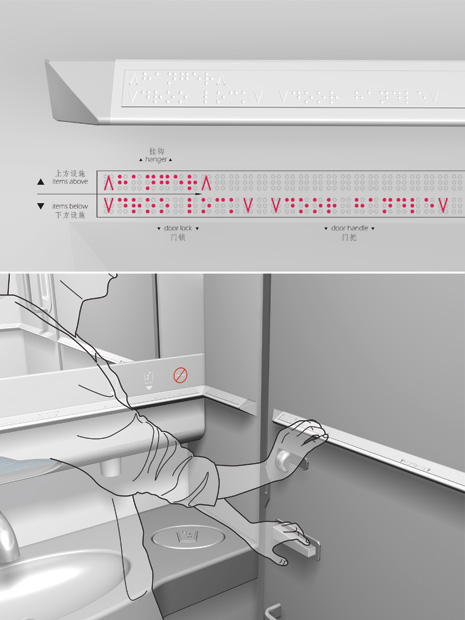 BrailleWise assists the visually impaired to access aircraft lavatories easily and independently.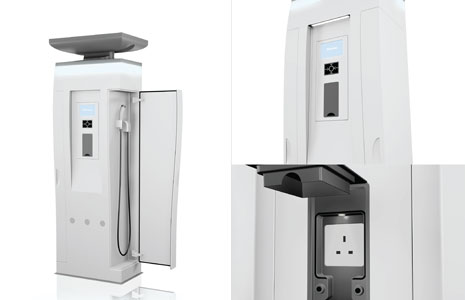 SEVCS is a smart charging station for electrical vehicles
Read more:
BrailleWise
SEVCS
The 2012 Successful Design Awards