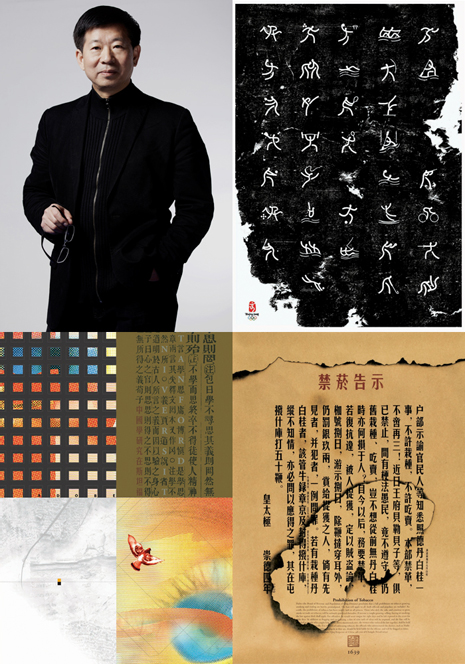 PolyU School of Design is pleased to announce the appointment of Professor Wang Min to the post of Chair Professor of Communication Design effective from 2 January 2013.
Professor Wang received his Bachelor of Arts in Graphic Art from the China Academy of Fine Arts (CAFA), Hangzhou, China in 1982. He obtained a Master degree in Fine Art from the Yale University School of Art, New Haven, USA in 1988.
Professor Wang has a good mix of academic and industrial experience. He started his academic career in 1982 as Lecturer at the CAFA in Hangzhou, China. Professor Wang has been Visiting Fellow in Germany at the Akademe der Bildenden Künste, Munich and the Hochschule der Künste, Berlin during 1983 to 1986. He then joined the Yale University School of Art in 1989 as Lecturer. In 1990, Professor Wang worked as Senior Graphic Designer, Senior Art Director and Design Manager at Adobe Systems in USA for eight years. During 1998 to 2003, Professor Wang worked as Design Director at Square Two Design in San Francisco with clients including Adobe, IBM, Intel, Netscape and Standford University. Since July 2003, he has been the Dean of the School of Design at the CAFA in Beijing.
In 2004, Professor Wang was appointed as the Design Director in the Art Research Centre for the Olympic Games (ARCOG) at the CAFA and created a unique working group. Under Professor Wang's leadership, the ARCOG design teams, including CAFA students, have developed a comprehensive design system for the Beijing 2008 Olympic Games including the design of medals, pictograms, colour system, image and identity guidelines. During October 2006 to October 2008, Professor Wang was appointed as the Design Director for the Beijing 2008 Olympic Games Committee. In 2007, Professor Wang has been elected as the Vice President of the International Council of Graphic Design Associations (ICOGRADA) and he was the Academic Director of the ICOGRADA World Design Congress 2009 which has been the most significant and largest-scale design event in China.
Professor Wang has been giving talks in USA, China, Hong Kong and Malaysia, and invited as judge for design competitions. Professor Wang's work has been exhibited internationally in showcases such as the Biennial of Graphic Design in Brno, Czech Republic; Graphic Design Show in Beijing, China; Type Directors Club Exhibition in New York; Print Annual; and the International Poster Biennial in Lahti, Finland and in the collection of Museum für Kunst und Gewerbe in Hamburg, Germany, Museum für Gestaltung Zurich Kunstgewerbemuseum in Switzerland.
Professor Wang was awarded the Chang Jiang Professorship in 2007 by the Ministry of Education and he is the only recipient of this award in the field of Art in China.
Photo captions:
(From top to bottom, left to right)– Portrait of Prof Wang Min
– Poster design for Beijing 2008 Olympic Games
– Book design
– Poster design on anti-smoking campaign